DISCOUNT PARTY 10% FROM TOTAL FINAL INVOICE YOU PURCHASED NOW !
EXCLUDING CHEAP REGISTERED FUCKING SHIPPING FLAT COST WORLDWIDE !
USE THIS CODE #BLAMEITONPATCH10 TO RING THE HORN
NOT VALID & AVAILABLE FOR WHOLESALE PRICES

UNTIL MAR 31, 2019 DISCOUNT PARTY 10%
MAKE LIST OF PATCHES YOU WANTED AND NEEDED, THEN SEND US E-MAIL OR MESSENGER IN OUR FACEBOOK PAGE
REMEMBER, DISCOUNT PARTY 10 % FROM TOTAL FINAL INVOICE YOU PURCHASED NOW, RING THE HORN !
-> GRAB THEM ALL OR CRY OUT LATER <-
Licensed Patches mean We had an agreement to manufacture these patches officially
with permission and approval from the bands or the members of the bands !!!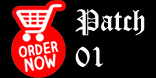 -: SPECIAL OFFERS :- -: SPECIAL OFFERS :--: SPECIAL OFFERS :-


YOUR PURCHASE STARTED FROM EUR (€) 3,50 - EUR (€) 99,99 or more, REGISTERED SHIPPING FLAT COST RATE WILL BE ONLY FOR EUR (€) 7,50 !!!
Also Your Order for Over than IDR (Rp) 375k / EUR (€) 50 / USD ($) 65 Excluding Shipping Cost or ..... Equivalent to
Buy 12 or more Get + Free Patch(es) & Stickers for All Rotten-Zombies Selected Patch Releases only But EXCLUDED Shipping Cost !
Free Woven or Embroidered Patches / PIN BUTTONS or Free RZP Label Tagging and Stickers, My Friends (But All When Available, at Our Choice!)!
So, Be Quick or Be Dead Or Crying Later \m/

Latest updated on MAR 17 -2019


More Information, Wholesales Prices, Trade and Custom Patch at order@rotten-zombies.com



A True Addition To Any Metal Battlevests & Jackets ! Official Licensed Patches Merchandising \m/ Grab Them while still...
Posted by Rotten-Zombies Productions on Wednesday, July 26, 2017